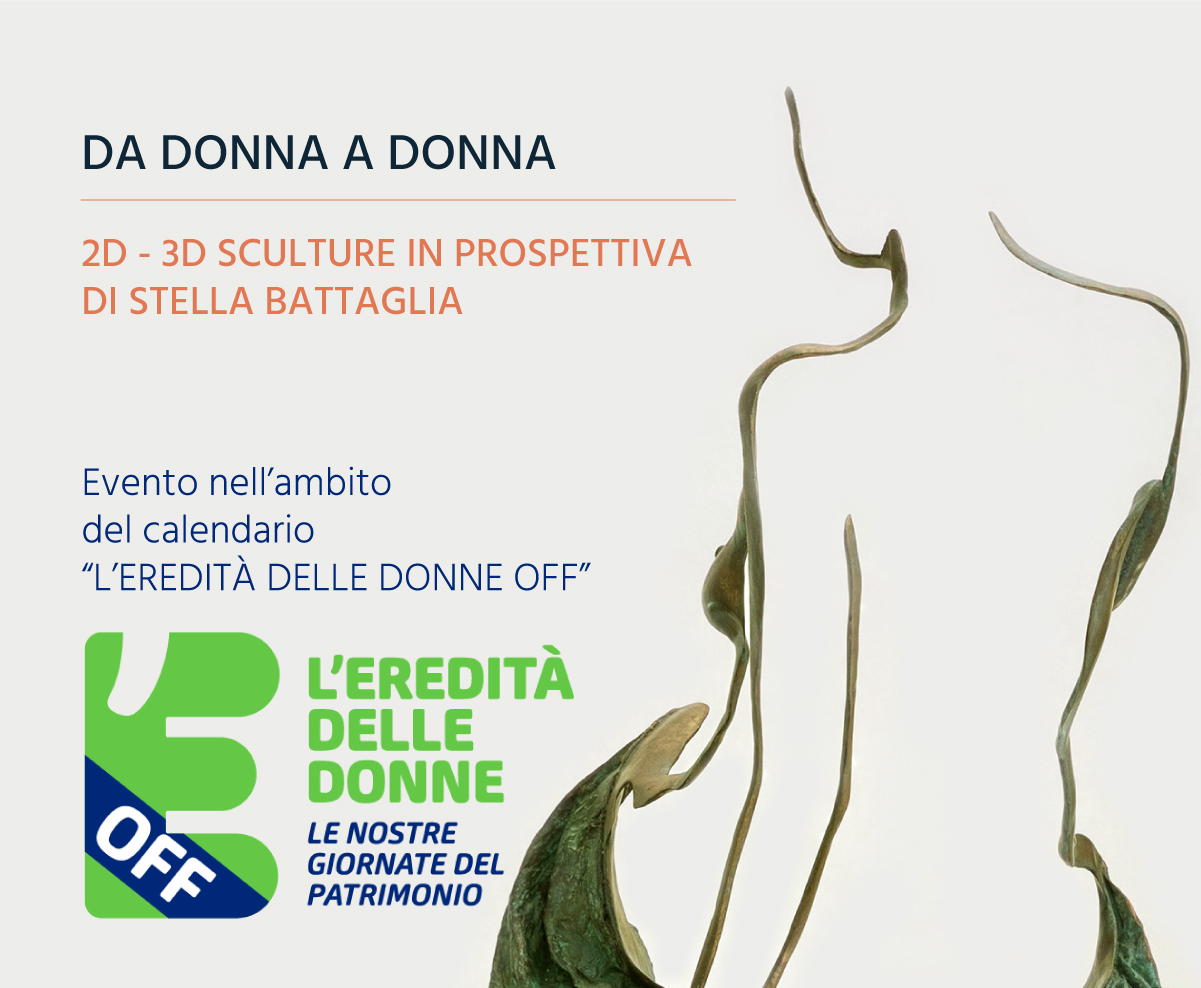 04 Dec

Exhibition "From woman to woman" – Event within the calendar "L'eredità delle Donne Off"
From woman to woman.
2D-3D Perspective sculptures of Stella Battaglia
Between the two dimensions of the image and the three dimensions of the sculpture, perspective sculptures dedicated to the female figure, up to jewels like small sculptures to wear, like a piece in the world of women sculptors and artists will be on display in the artist's laboratory.
This exhibition, expressly set up for The Heritage of Women, is part of an artistic research both theoretical and creative in the field of perspective and perspective distortions in sculpture. An activity between art and science to which he has been dedicated for more than twenty years, which led to the creation of works in different materials, traditional and synthetic, up to video installations, passing through terracotta and bronze, the latter techniques which they offered me the possibility of reconciling two passions: the moment of the modeling, more impulsively, and the structuring geometry of the relationship between form and space and the observer. The didactic activity (Museo Galileo) and consulting (Opificio delle Pietre Dure) joined the creative activity.
It was exciting to rediscover the possibility of creating particularly dynamic forms sustained by the force in perspective geometry, which in the play of different points of view gave rise to an expressive, evocative, narrative or playful sense, and which by binding the observer and the work could to arouse emotions, reflections and suggestions close to contemporary sensibility.
The gap between the two dimensions of the image and the three dimensions of the sculpture, an impalpable and evanescent and the other material and tangible, becomes a metaphor for the relationship between the human being and the world that surrounds him, particularly significant for the woman who has had to conquer his own space in the world and still has to do it.
Dates: from 04 to 06 October
Place: Via dei Serragli 46R 50124 Florence
Timetable: from 10am to 1pm and from 5pm to 10pm
Free entry
Event in the  "L'eredità delle Donne Off" calendar >